AIR SPRINGS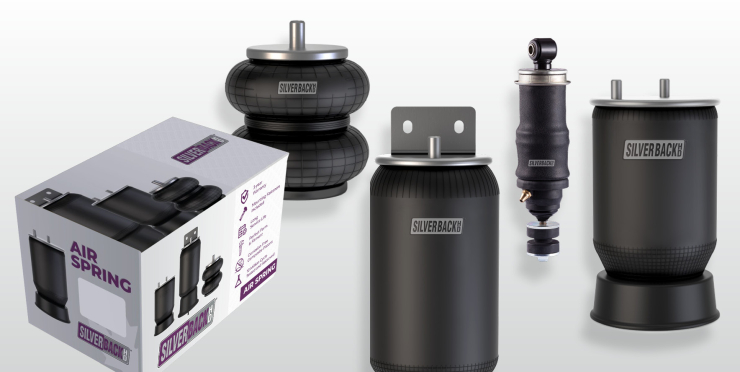 Trusted Premium Quality
10 million cycle tested, overmatched performance with OEM.
Where 3 million lifecycle testing is accepted as an indicator of a high-quality standard, SilverbackHD air springs are tested to 10 million lifecycles during the research and development phase. Test results have proven that SilverbackHD air springs match the durability and performance of higher priced OEM brands, while outperforming competing aftermarket manufacturers. SilverbackHD Air Springs also display excellent performance on absorption of weight and stress of maximum payloads and roadside imperfections.
Convenience Out of the Box
Mounting fasteners included for easy installation.
As an industry leader, SilverbackHD strives to provide innovative solutions to assist our customers. By being the first to include all of the necessary mounting hardware with our air springs, we have delivered convenience, while reducing installation time.
Think Inside the Box!
Convenient, clean and protected. Boxed and secured air springs.
At SilverbackHD, we believe there are two key factors that determine the measure of a brand, customer experience and the value given to every one of its products. SilverbackHD offers air springs in a sleek box, reflecting its premium quality. This ensures that they are clean, protected, and convenient to stack and carry.
Corrosion Out of the Picture
Corrosion-free composite pistons providing long service life
There is no need to worry about corrosion issues that were once evident with aluminum pistons. All SilverbackHD Air Springs are built with corrosion-free composite bottom plates.
Have Confidence
3-year or 300,000 mile warranty
All SilverbackHD Premium Quality Air Springs are covered with 3-year or 300,000 mile warranty.